In the last years, huge efforts have been made to conserve and restore ecosystems and biodiversity, thus countering the negative effects of field- and landscape-scale intensification. This is evidenced by the current UN Decade on Ecosystem Restoration target to restore 30% of today's degraded areas. Semi-natural grasslands are a particularly important piece of the restoration puzzle because of their high biodiversity value. However, research on grassland restoration is still lacking in three areas:
landscape-scale studies on ecological intensification;

long-term monitoring of successional processes of restored grassland on former cropland;

restoration with diverse native and local floral seed mixtures.
Research on restored flower-rich grasslands is especially missing from Central and Eastern Europe. In an effort to fill this knowledge gap, a team of researchers decided to undertake a large-scale and long-term field study, published in Ecosystem Health and Sustainability, testing the effects of restoring species-rich semi-natural grassland islands in crop fields on biodiversity and ecosystem services. Their experiment started in 2020 and is currently continuing in the framework of SHOWCASE as one of the 11 Experimental Biodiversity Areas of the project.
The researchers selected 24 circular landscape plots of 500 m radius with either homogeneous or heterogeneous landscapes in Central Hungary. 16 of them were sown with seed mixtures of 32 local insect-visited plant species, whereas the other 8 plots without sown treatments serve as control sites. Two years into the study, the vegetation is well established and buzzing, as you can see from the image below: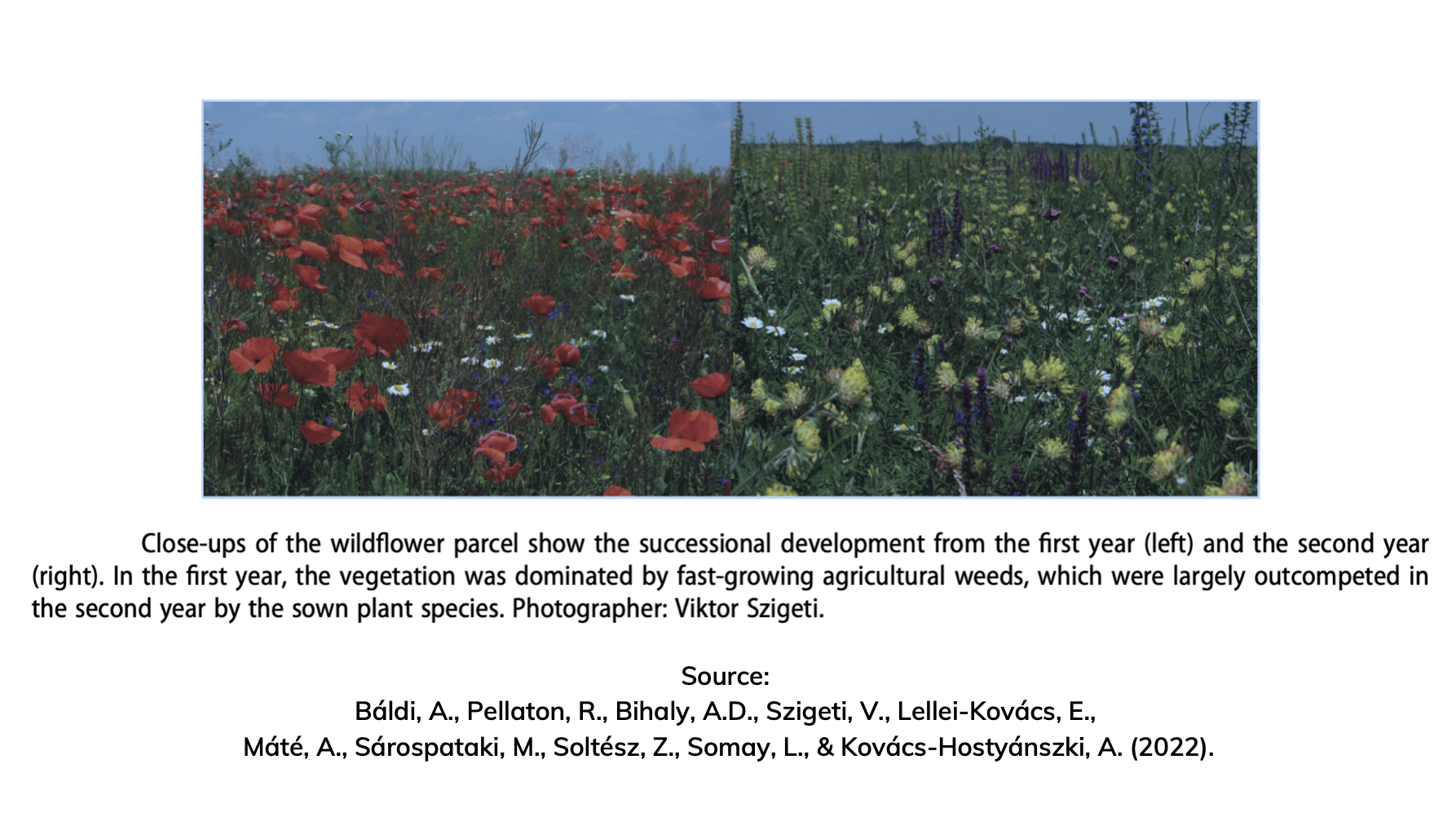 Besides providing a firm basis to test different restoration hypotheses, the experiment also allows researchers to examine a variety of questions from individual behaviour (e.g. butterfly movement) to key ecosystem services (e.g. pollination or pest control). The end goal of the study is to demonstrate effective restoration practices to farmers, presenting benefits beyond crop area reduction. Moreover, researchers hope to provide policymakers with research-based evidence on a win-win strategy for biodiverse agriculture that also supports food production.
Read the full article here.