To overcome the barriers preventing the agricultural sector from adopting biodiversity-friendly practices, SHOWCASE provides solid interdisciplinary evidence for the agroecological and socio-economic benefits of biodiversity management. To do that, the project has developed a multi-actor pan-European network of 12 Experimental Biodiversity Areas (EBAs), across 10 countries with contrasting farming systems. Each of them serves as a knowledge exchange hub, where multi-actor communities (growers, extension workers, researchers, NGOs, citizens, etc.) work together to co-develop, co-manage and co-evaluate biodiversity innovations to enhance farm production, and improve wildlife protection and social-ecological production systems. Catch a glimpse of SHOWCASE's EBAs below!
Estonia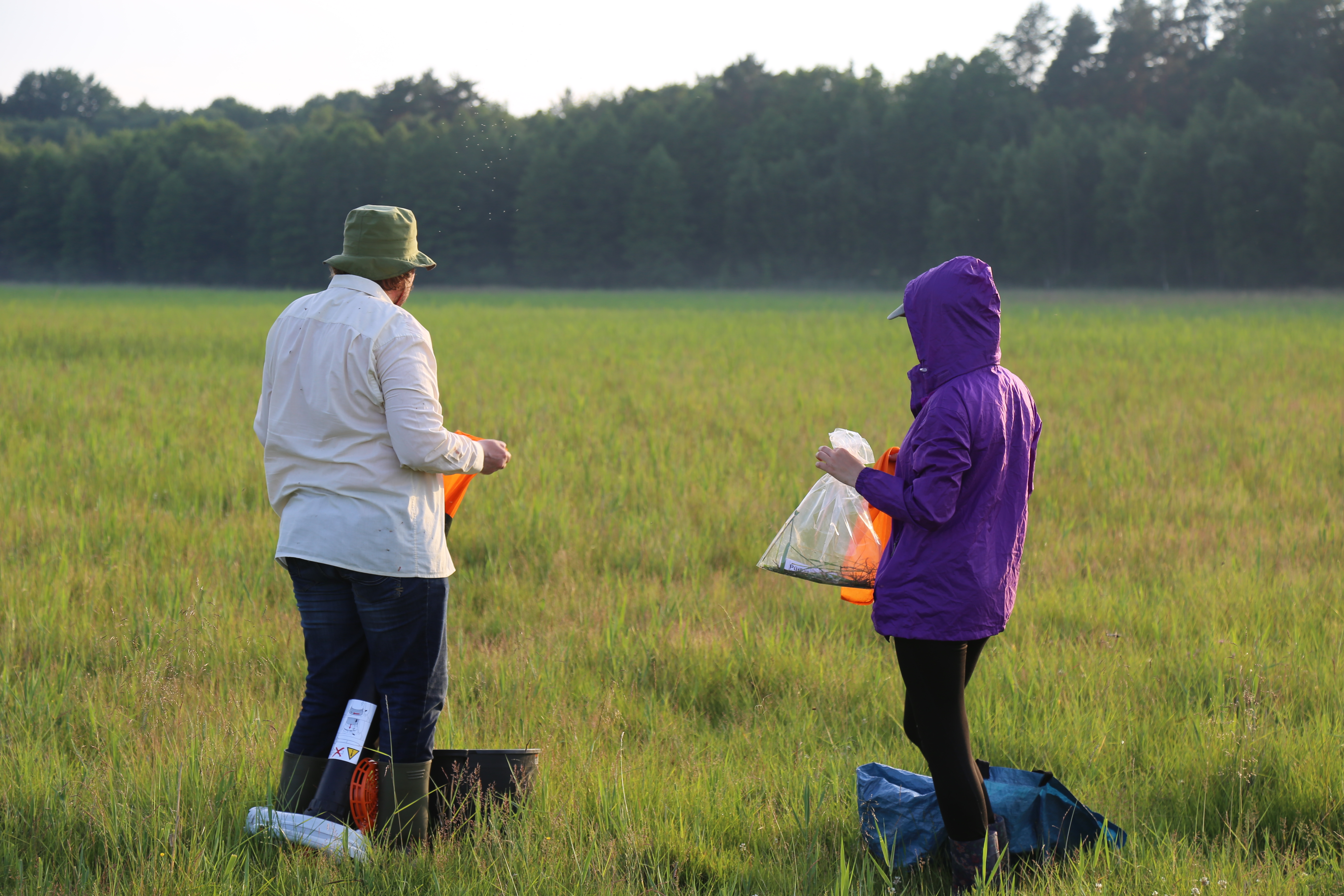 Photo by Anett Lee Melts.
The Estonian EBA focuses on the maintenance of coastal grasslands – a unique ecosystem and an important habitat for different species. The main goal is to clarify the impact of long-term management, and continuous grazing on different taxonomic groups and their interlinkages in the traditional agricultural landscape. The EBA also hopes to increase stakeholders' knowledge about different species and about the benefits of biodiversity management for local agriculture.
France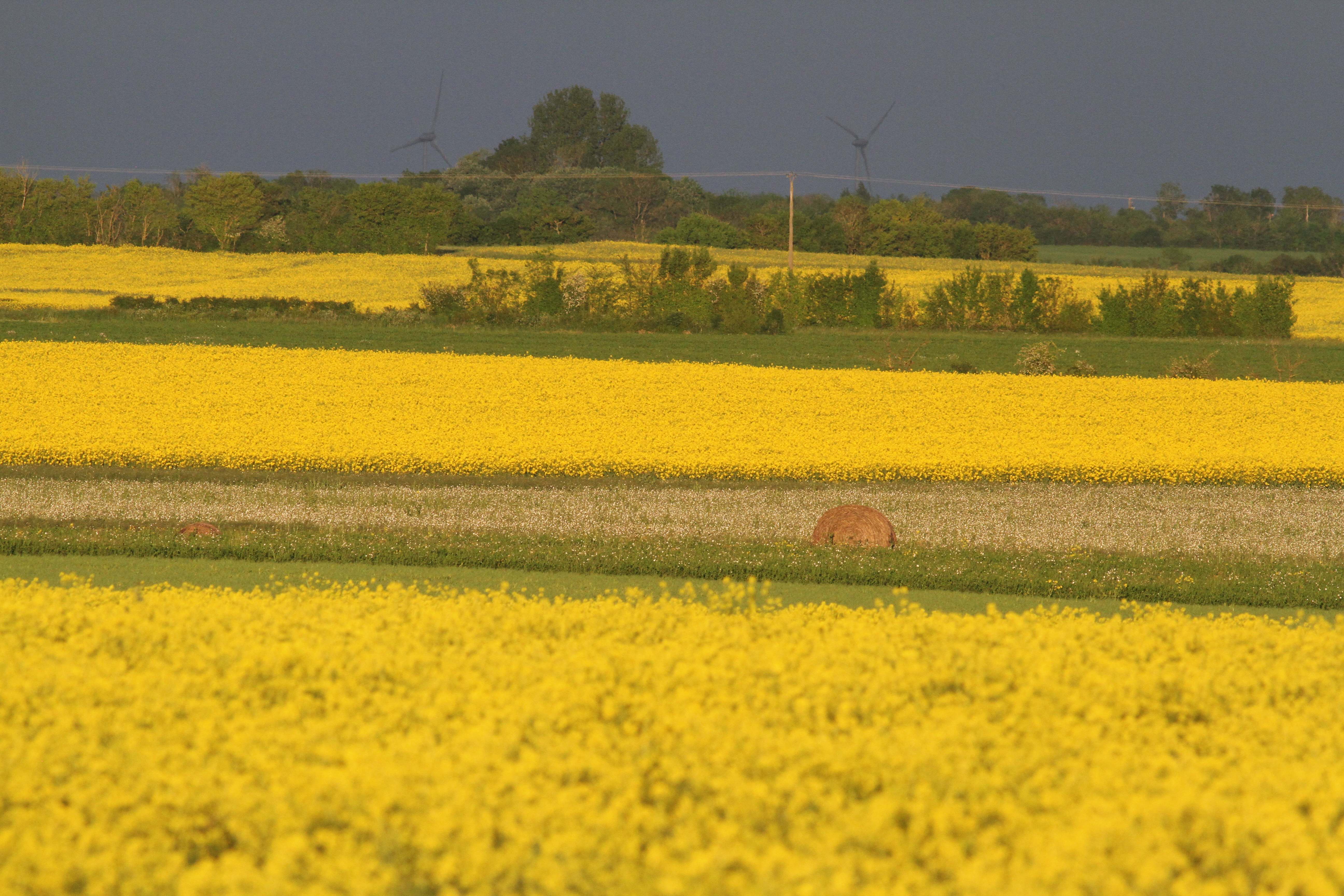 Photo by Vincent Bretagnolle.
The French EBA aims to extensify crop production in wheat (winter cereals), which itself accounts for 45% of the area. The EBA focuses on reducing soil work, replacing herbicide use with mechanical weeding, and reducing pesticide and nitrogen use.
Hungary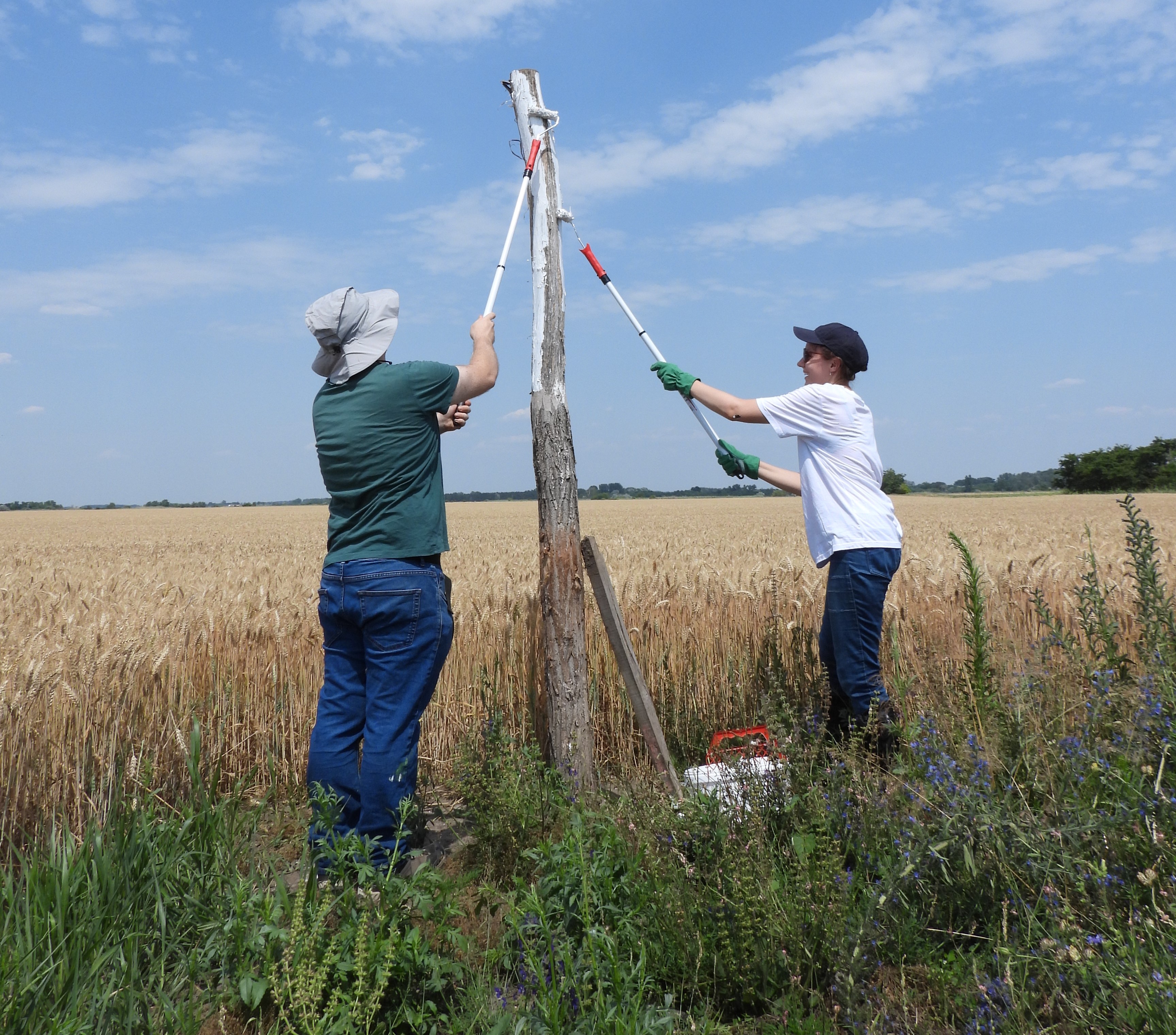 Photo by András Báldi.
Hungary hosts two SHOWCASE Experimental Biodiversity Areas. The first one aims to demonstrate that wildflower parcels improve pollination and biological pest control services next to the parcels, and at the landscape scale. SHOWCASE researchers collect all the core biodiversity indicators needed for the project, such as bees, hoverflies, spiders, and cereal yield, as well as sample the vegetation.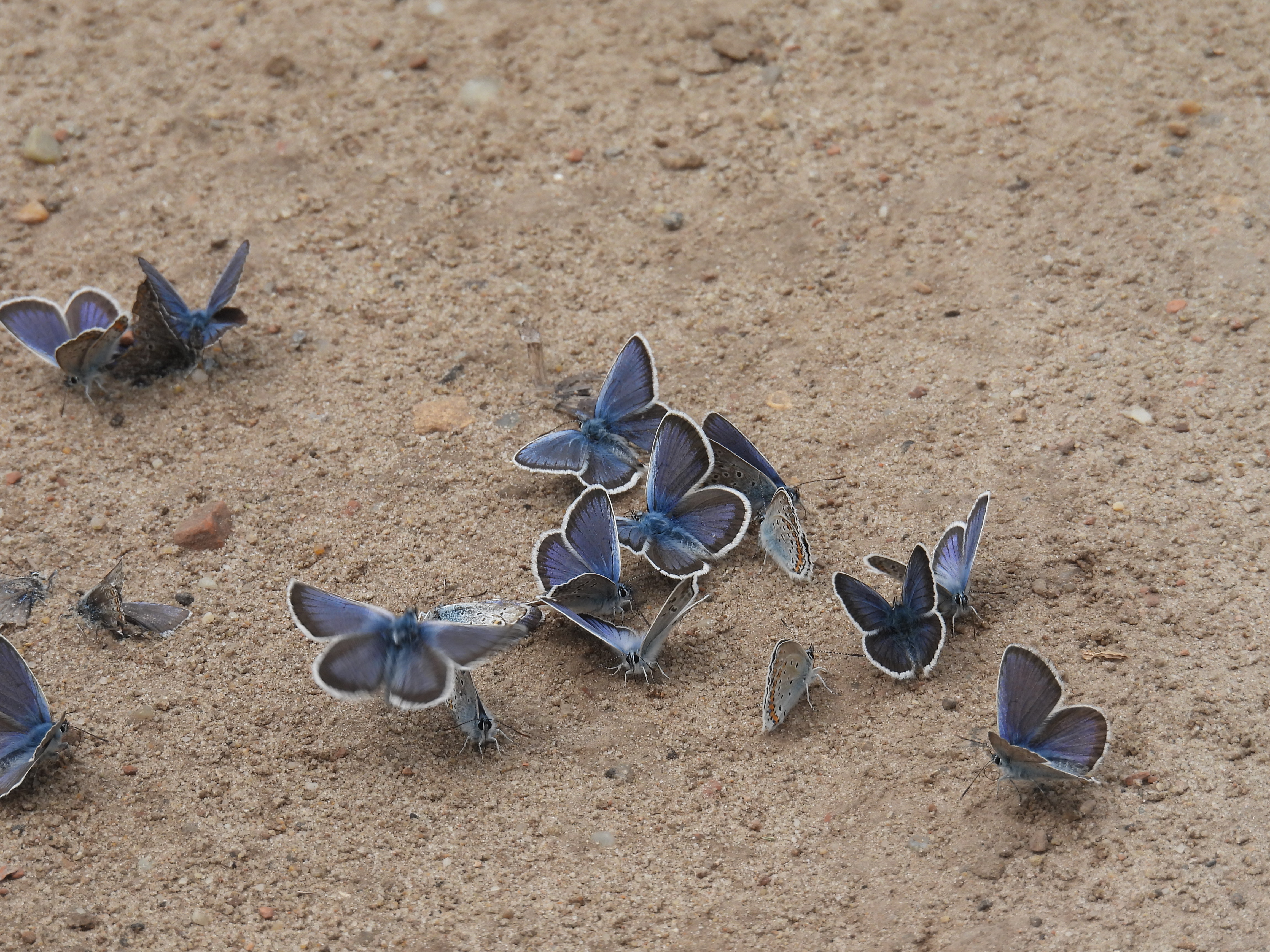 Photo by András Báldi.
In the second Hungarian EBA project members overseeded oldfields with a seed mixture of native local plants, mainly leguminosae, to improve soil properties and increase invertebrate species diversity.
Netherlands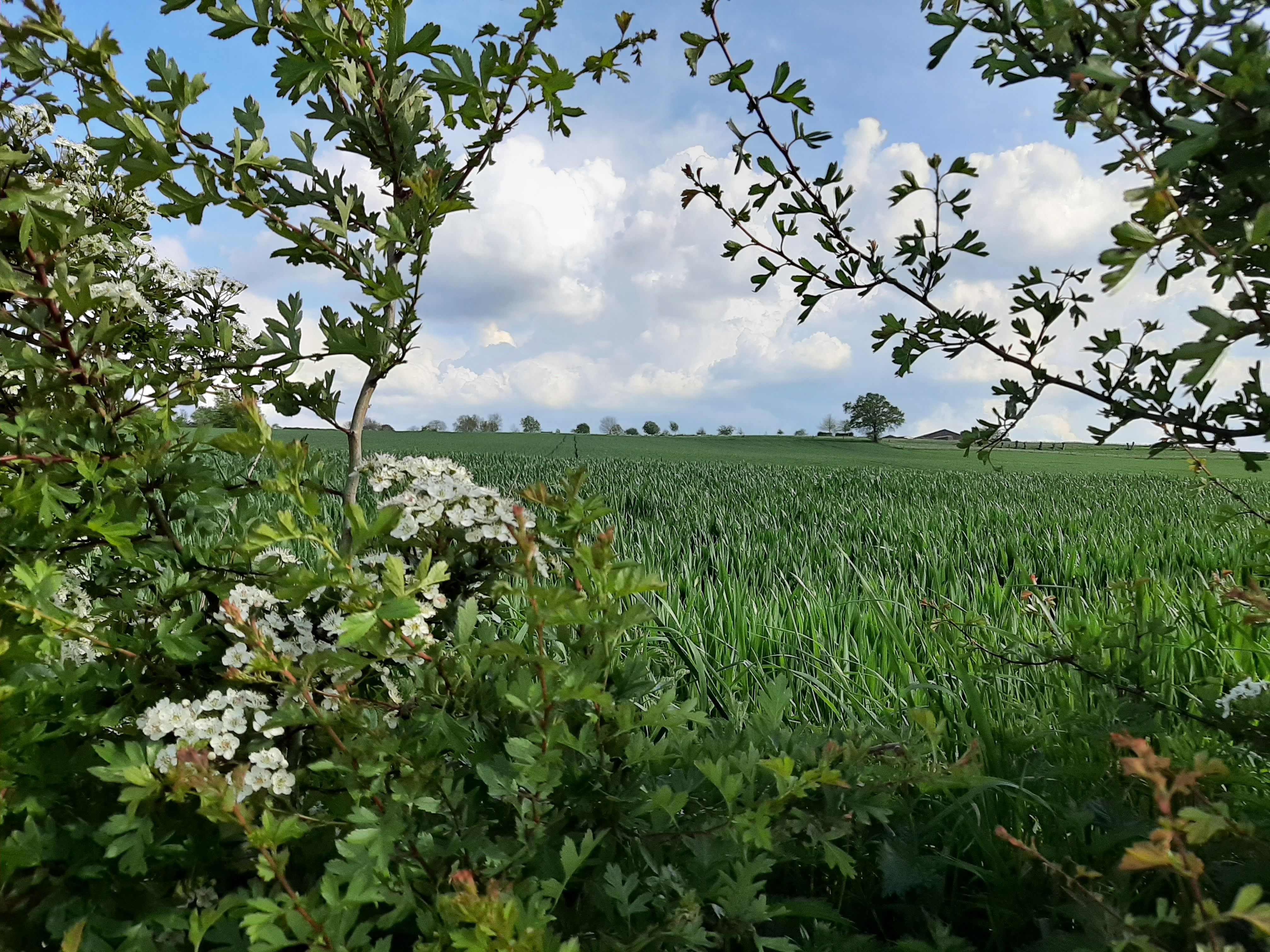 Photo by Hila Segre.
The Dutch EBA is studying how to improve biodiversity management in an important biodiversity hubspot (South Limburg) to improve both public benefits, such as biodiversity, and private benefits to farmers (natural pest control) at the lowest economic costs. This is done in three farming systems and exploring two approaches (in- and off-field management). Researchers study (1) how different levels of grassland intensity affect biodiversity and farm economy, (2) how off-field interventions (grasslands, hedges, road verges) and their management affect biodiversity and costs and benefits in a cereal fields system, (3) how adding a mass-flowering nitrogen-fixing crop (lupin) into the crop rotation affects multiple ecosystem services including biodiversity.
Portugal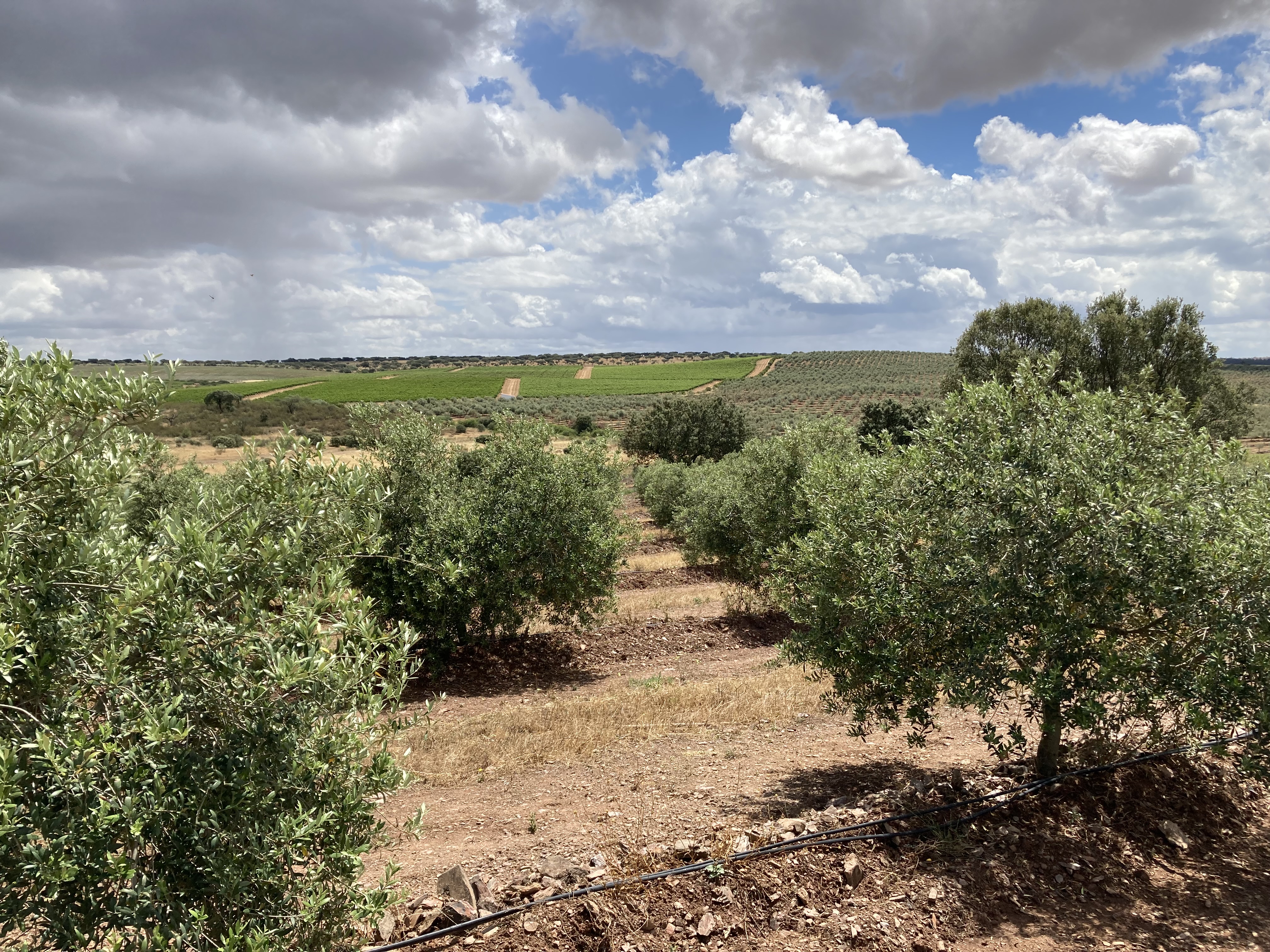 Photo by José M. Herrera.
The Portuguese EBA is focused on olive (Olea europaea subsp. europaea) groves – one the most widespread permanent crop in Europe, particularly in countries around the Mediterranean sea. Its main aim is to demonstrate the impact that ground vegetation cover has on several taxonomic groups involved in key ecosystem processes such as crop pollination and pest control. The Portuguese EBA wishes to motivate farmers to embrace integrated ground vegetation cover management in their fields.
Romania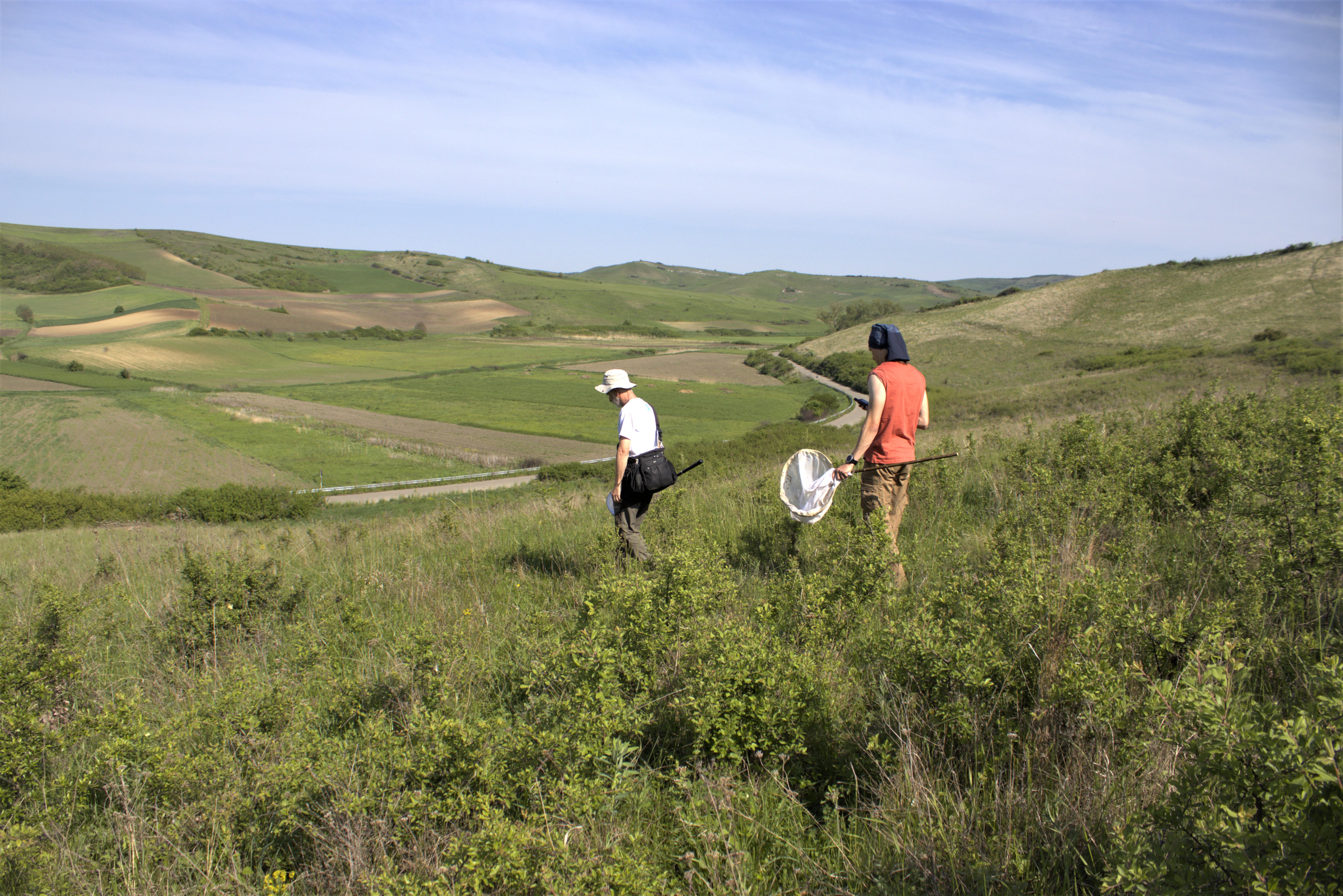 Photo by Cristina Costache.
The Romanian EBA is located in the beautiful area of northern Cluj-Napoca (more about the area in this video). Its main goal is to support farmers and increase the grazing area by removing shrubs and monitoring whether biodiversity increases or decreases. The EBA surveys pollinators such as bees, bumblebees, butterflies and spiders, as well as flowering plants.
Spain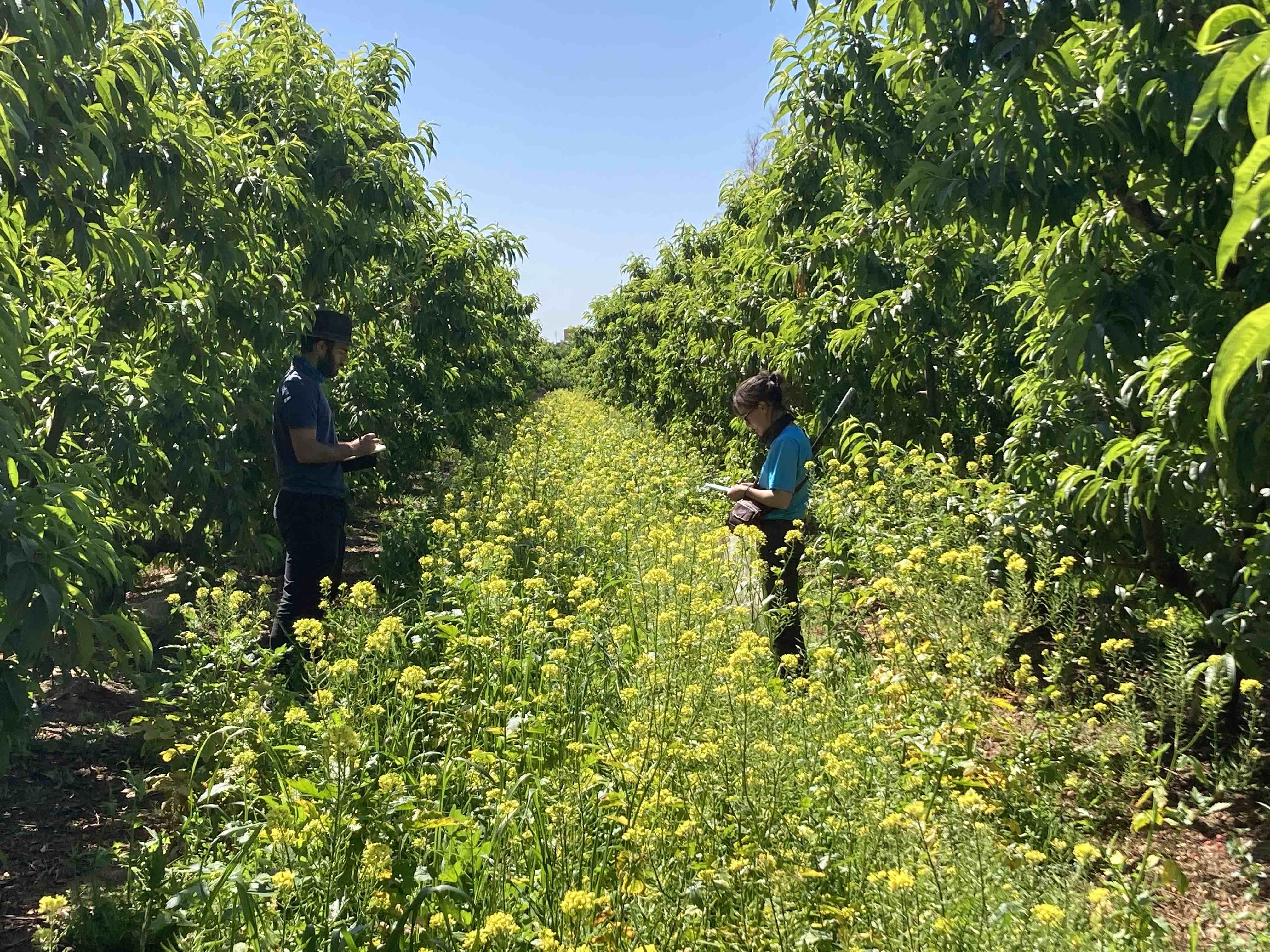 Photo by Elena Velado Alonso.
The Spanish EBA is composed of a living community of stone fruit farmers, scientists and other stakeholders located in the Guadalquivir valley. The aim of this community is to exchange knowledge and look for common solutions. Its motivation is to find an equilibrium between intensive production and biodiversity conservation. To that end, it carried out an experiment with a multi-species green cover that may improve farms' ecological characteristics while creating habitats for wild species and auxiliary fauna.
Sweden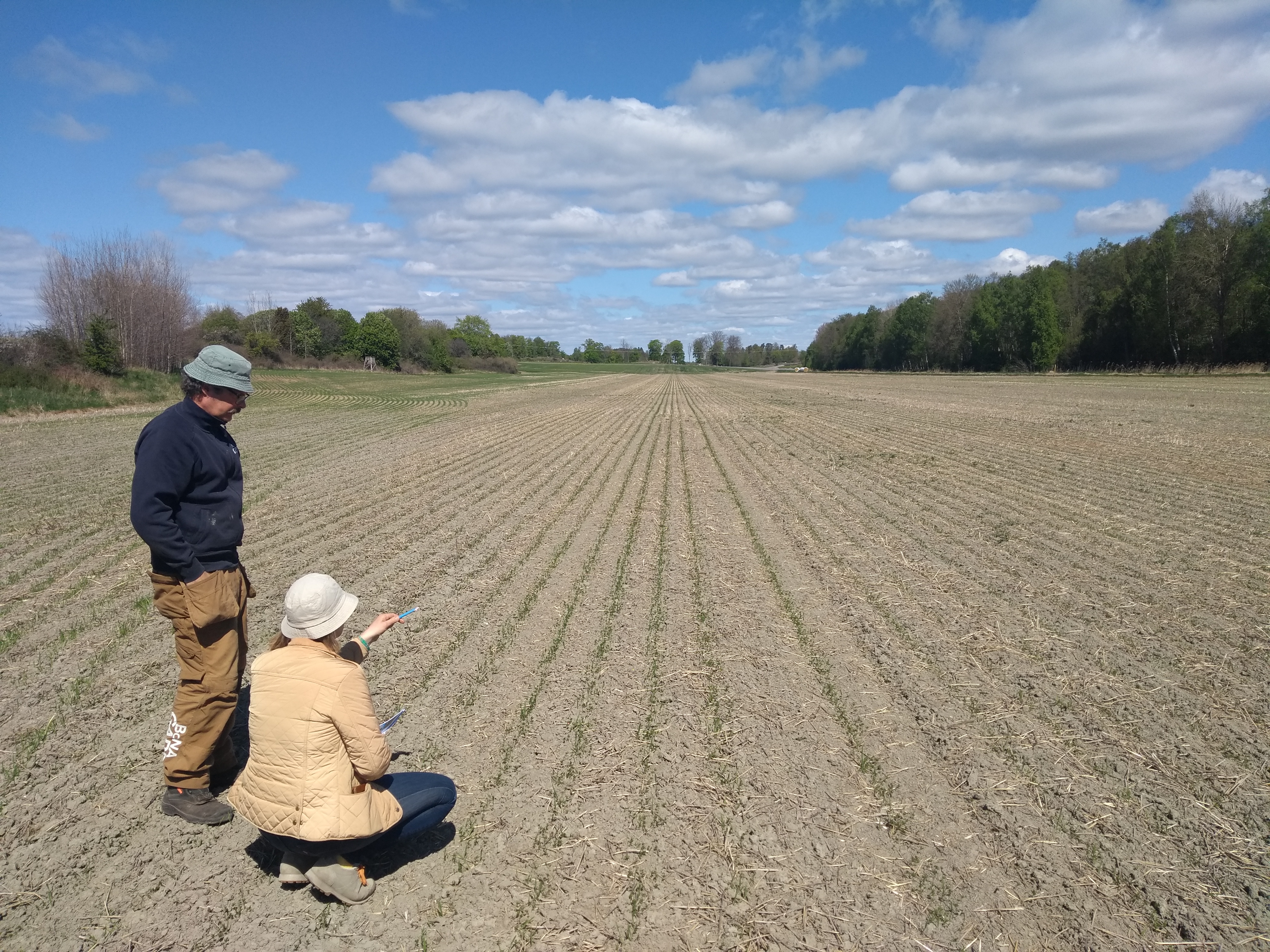 Photo by Andrew Ruck.
The Swedish EBA involved 11 fields located across a wide area, where variants on inter-cropping were applied. The main interest focuses on the effects on soil humidity, and by extension, nitrogen content as well as biodiversity, especially of ground-dwelling arthropods. The experiment included a number of sites with co-cultivation of two crops in the same field and others with "bottom crops" or "cash crops" sown under the main crop to be harvested as the main crop the following year.
Switzerland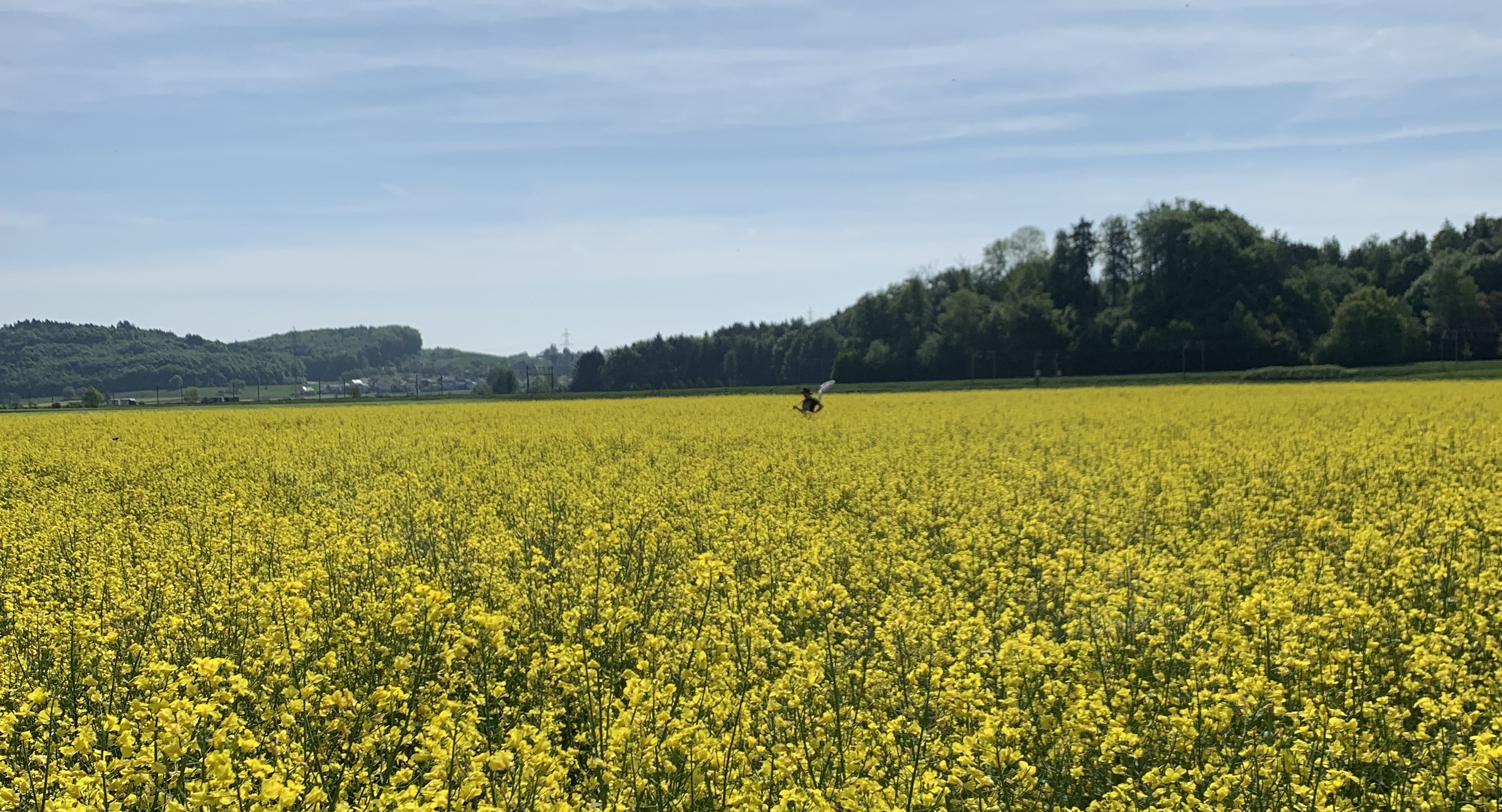 Photo by Maura Ganz.
In the Swiss EBA, farmers and researchers are jointly investigating agro-environmental pest management techniques. The goal is to reduce the use of chemical pesticides by 75% while minimising the yield by at most 10%. Apart from a precisely defined crop rotation, on innovative fields, 'Integrated Pest Management' techniques are tested while synthetic pesticide use is reduced to the absolute minimum. Farmers are also testing the effect of targeted wildflower strips specifically adjusted to increase attractiveness, quantity, quality and accessibility of resources, as well as the timing at which they are available.
United Kingdom

Photo by Amelia Hood.
The British EBA aims to produce guidance on the types of cover crops that provide the best benefits to the soil. It is testing the impact of different cover crop mixes on soil structure, health, carbon, crop yield, and profitability. Three cover crop mixes have been planted that vary in their level of frost tolerance, with the expectation that mixes that decompose in frost will increase soil organic matter and reduce the need for glyphosate to remove them.
You comment, ask questions and find out more about the EBAs in our dedicated Twitter thread on the topic.
👥You met the #SHOWCASEfaces, now you can catch a glimpse of their work

SHOWCASE has a multi-actor pan-European network of over🔟Experimental Biodiversity Areas (EBA) to illustrate interactions between #biodiversity & #agriculture

🔎Let's take a closer look at the #showcaseEBAs pic.twitter.com/jejVWsrYVB

— SHOWCASE_project (@SHOWCASE_H2020) September 27, 2022
---
Photo: Illustration of SHOWCASE's Experimental Biodiversity Areas network.